The Best - And Worst - Easter Candy...I Totally Agree!!
With Easter only a few weeks away it's hard to walk into a supermarket or drug store and not see shelves and shelves of your favorite Easter candy. But not all Easter treats are created equal, and some are certainly way more delicious than others.
Well, CandyStore.com has just come out with the results of their survey on the best and worst Easter candy, and we bet it will cause quite a bit of debate.
Topping the list of the best Easter candy is Cadbury Mini Eggs, with one respondent noting it's "my favorite part of Easter," and another adding, "we fight over Cadbury Mini Eggs." Coming in at two is a hollow chocolate Easter bunny, followed by Reese's Peanut Butter Eggs.
Top Ten Best Easter Candies:
Cadbury Mini Eggs - AGREED!!!!
Chocolate Easter Bunny (hollow)
Reese's Peanut Butter Eggs
Lindt Chocolate Carrots
Robins Eggs from Whoppers
Kinder Joy Eggs Candy
Jelly Beans (gourmet/naturally flavored)
Foil-wrapped Chocolate Eggs
Skittles-filled Easter Eggs
Sour Patch Easter Bunnies
Now, when it comes to the Worst Easter Candy, that's where we think some folks may take issue. Topping the list as the absolute worst is the Cadbury Crème Eggs, which used to be the thing people waited for at Easter time. "It's the goo inside. That [stuff] ain't right," one person noted, while another added, "Oh no no no. What even is that stuff inside? It's like a runny egg, but who wants to eat a raw runny egg from the shell?!" Also controversial? The Easter staple Peeps lands at three.
Ten Worst Easter Candies:
Cadbury Crème Eggs SECONDED! THE WORST!!
Bunny Corn
Peeps
Chicks & Rabbits
Solid Chocolate Bunnies
Jelly Beans (generic)
Chocolate Crosses
Carrot Cake Hershey's Kisses
Jordan Almonds
Fluffy Stuff Cotton Tails 
Read more --> CandyStore.com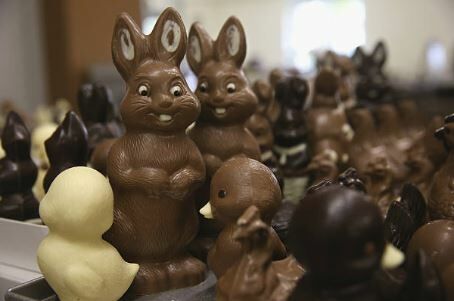 Photo Credit: Getty Images

Julie
Want to know more about Julie's Blog? Get their official bio, social pages & articles!
Read more