Kylie Jenner and Travis Scott 'Actively Trying' to Get Pregnant Again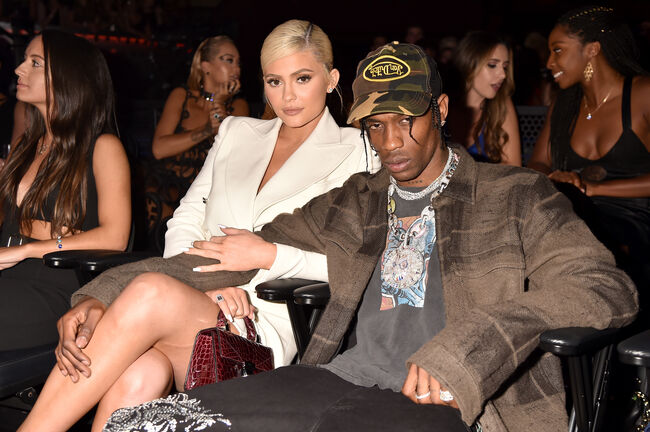 Stormi Webster is going to be a big sister! Well, maybe. Rumors are swirling that Kylie Jenner and Travis Scott are ready to expand their family. A source revealed to US Weekly that the 21-year-old makeup mogul and her 25-year-old rapper beau are "actively trying" for another baby. The source adds that their 8-month-old baby girl made the couple fall "even more in love," which is just so sweet.
The news that Kylie is ready for another baby may be surprising to fans because she recently discussed her desire for more kids in a recent Snapchat Q&A with her BFF Jordyn Woods. "I want another baby, but when is the question," Kylie said in the video. "I'm definitely not ready right this second. And I don't know when it will be, but when I do, I'd love to share more of that with you guys."
Interestingly, though, Kylie revealed she's already thinking about names for baby number two in the same Q&A. "I haven't found anything that I love love. But I definitely want another girl, hopefully, and I want her to have a really feminine name. That's all I know," she said.
Kylie also discussed her desire for more children with Youtuber and makeup artist James Charles, saying she's excited to give Stormi a bunch of siblings. "Sisters only, like I want seven girls and then maybe I'll consider a boy," she said. Until then, though, Stormi is totally fine hanging out with her cousins Chicago West and True Thompson. "They have play dates all day," Kylie told James. "Stormi and Chicago were taking a bath together last night at my house. They really are triplets." So stinkin' cute!
While Kylie has not confirmed she wants to have more kids ASAP - remember, this is the same girl who kept her first pregnancy hidden until after she gave birth - it's pretty clear the new mom has baby fever. You can't blame her, though. I mean, have you seen how cute Stormi is?! She shared another adorable story with James, revealing that Stormi's name was almost something different. "It was always Stormie with an -ie," she said. "I didn't fully choose her name, I wanted to have a week of just me and her to see if I wanted to change it, cause I had one other name in mind, but Stormi always felt like her name from when she was in the womb."
Okay, so, Stormie isn't so different from Stormi, but it's still an interesting fun fact about Kylie's first child. Kylie believes that Stormi "chose her own name," going on to say that she didn't decide on the final spelling until she had to sign her daughter's birth certificate. "Literally right then and there I just changed it to an -i and I hung up the phone and was like, 'Damn, I guess that's her name'."
Before settling on Stormie or Stormi, though, Kylie also briefly considered the name Willow. She nixed that moniker because of her close friendship with Willow Smith. The more you know! Maybe by the time baby number two comes along, Willow will be back in the running. We'll just have to wait and see.
Photo: Getty