This Little Girl's Homemade "Crazy Rich Asians" Dress Went Viral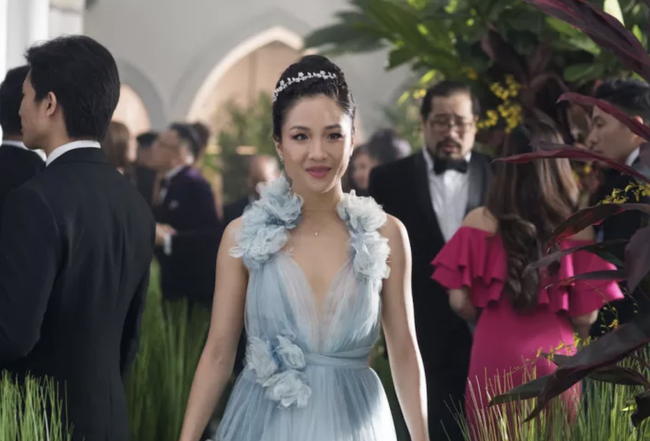 Crazy Rich Asians might just be the most highly anticipated film of the summer. It's the first major blockbuster featuring a majority Asian cast to hit theaters since The Joy Luck Club premiered back in 1993. Twenty five years is a long time to wait to see yourself reflected on the big screen. The power of Crazy Rich Asians' is already being seen all across social media, with many sharing posts about how much the film means to them.
One of these heartfelt posts caught the attention of Contstance Wu, who stars as Rachel Chu in the film. Ha Truong, a Miami based blogger, posted photos and videos of her 5-year-old daughter in a replica of the stunning Marchesa gown Wu wears in Crazy Rich Asians. Truong created the dress herself in two hours with eight yards of Tulle.
In the trailer, [Constance Wu] wears this ethereal blue gown. I knew we had to recreate it in honor of... being Asian," Troung captioned the photo. "Once the flowers were on, Olivia gasped and said "Damnnn, Rachel!" Just kidding.. she said "Woww!" She gets super excited every time the trailer comes on now and says "Mom! Look! It's my dress! It's Constance Wu!".Fun fact: the last Asian-American (non-martial arts) Hollywood studio film was The Joy Luck Club. I was 7."
Wu reached to Truong after the saw the beautiful tribute asking for permission to repost the photos and videos. "Possibility...That's what seeing yourself reflected in stories gives you. Love this girl," Wu wrote.
Truong posted a follow up after her post of Olivia in the replica gown went viral. "When Liv was in preschool, her classmates would ask her if she's Chinese. She'd come home asking if everyone (Asian) is Chinese; she's Vietnamese and Thai. She didn't "see" herself at school and her peers didn't see her," Truong wrote. "When she put on this dress, it gave her a spark. She calls out for me at random now and will say "immigrant stories are stories of dreams, of love, of sacrifice, of courage, of honor." << [Constance Wu] quote."
Buzzfeed reach out Truong and asked if she and Oliva have seen Crazy Rich Asians in theaters yet. Truong replied that they went on opening night and that Olivia had been asking to see it "ever since she put on the dress."
Crazy Rich Asians is now in theaters everywhere. Who's going to see it this weekend?